1 Year Without Roe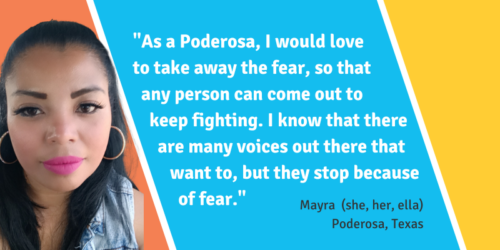 June 24, 2023, is the one-year anniversary of a devastating blow to reproductive rights and a decision that has disproportionately impacted the Latina/x community and communities of color.
The Dobbs vs. Jackson decision was a blatant attack on our bodily autonomy made possible by an increasingly threatening landscape of political extremism and racism in the United States.
We refuse to accept this as our new reality. Our team and activist leaders, our Poderosas, are confronting these unprecedented times with unprecedented efforts.
While our base of activists and allies is vast and growing, our on-the-ground efforts are led largely by 75 of our most advanced Poderosa leaders. These Poderosas have trained with us for many years and are helping us lead efforts and train others to advance our mission. Our goal this week is to raise 75 gifts of ANY size in honor of these 75 beloved and fierce leaders.  Will you renew your commitment today and tell our Poderosas they have your support with a gift of ANY SIZE?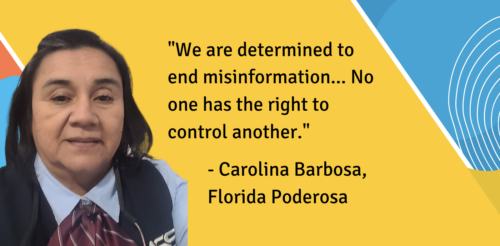 Your support in any form tells our Poderosas that they have the force of the entire community behind them, every step of the way. In addition to making a donation of ANY size, you can amplify our collective voice right now.
WHERE DO WE GO FROM HERE?
We must meet these unprecedented times with unprecedented efforts. This is exactly what our Poderosas are doing right now.
Together, we are:
1. Empowering Latinax/ Voices: providing a platform for the Latina/x community to share their stories and experiences, ensuring their voices are heard in the fight for reproductive justice.
2. Expanding Access to Care: working tirelessly to eliminate barriers and ensure that all women, regardless of their background or circumstances, have access to comprehensive reproductive healthcare.
3. Shaping Policy: fighting for legislation that upholds the rights of the Latina/x community and safeguards their reproductive choices.
THE REAL IMPACT OF THE DOBBS V. JACKSON DECISION
One year ago, the US Supreme Court overruled Roe v Wade with the disastrous Dobbs Decision, a ruling that has reverberated and been felt deeply across the nation.
The ruling obliterated and continues to pose a serious threat to laws that have safeguarded women's access to safe and legal abortion for nearly half a century. Now, more than ever, we must rally together to protect the reproductive rights that countless poderosas before us fought tirelessly to secure.
In one year, our communities have experienced the consequences…
Nearly 6.5 million Latinas – 42 percent of all Latinas ages 15-49 – live in the 26 states that have banned or are likely to ban abortion. They represent the largest group of women of color impacted by current or likely state bans.
Nearly half of all Latinas who live in these 26 states are already mothers, including 839,700 mothers of children under the age of three.
Nearly 3 million Latinas living in these states are economically insecure. Women with low incomes are especially impacted by state bans as they are more likely to lack access to the necessary funds to travel to other states for abortion care.
More than 1 million Latinas who live in states that have or are likely to ban abortions report not speaking English at all or not speaking it well. This language barrier creates substantial challenges to accessing and receiving culturally competent abortion care.
Latinas of all racial groups are impacted by the Dobbs ruling, including: 107,100 Black Latinas; 56,500 Native Latinas; 18,500 Asian American and Pacific Islander Latinas; and 820,500 multiracial Latinas
Click here to read the full Dobbs Decision Impact Report developed in partnership with the National Partnership for Women & Families. 
HEAR FROM OUR PODEROSAS ON THE FRONTLINES